Attractions!
Welcome To Phuket
Wat Chalong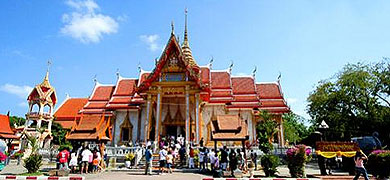 Wats - or Buddhist temples - are among the most important symbols of Thailand, partly because the majority of Thais are Buddhist and partly because they are so beautiful. In Phuket alone, there are 29 Buddhist temples spread around the island.
Wat Chalong has been extending a warm welcome to visitors for over a century. Locals come to pray and Westerners come to learn something about Buddhism. The temple is open from seven in the morning to five in the afternoon.
Karon Viewpoint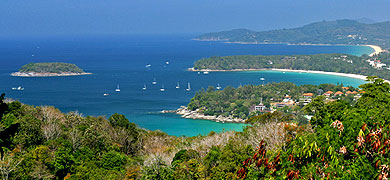 Karon Viewpoint (which used to be Kata viewpoint) is one of the most frequented viewpoints in Phuket. From here, it is possible to take in views of Kata Noi, Kata Yai and Karon beaches. Located between Nai Harn and Kata Noi beaches, the viewpoint is busy most days of the year and is a staple of many tour itineraries.
Called locally 'Khao Saam Haad' (Three Beaches Hill), the local municipality for some reason has officially renamed it 'Karon Viewpoint'.
Phromthep Cape
Is the island's most photographed and perhaps best-known location. Every evening, large tour buses, scooters and private cars sweep through Rawai Beach and up the island's southernmost hill in order to watch the sunset at its peak.
On the top of the hill stands a busy car park where vehicles disgorge crowds of people from every corner of the world. Cameras flash, fingers point and lovers cuddle as Phuket's most fabulous free show is re-enacted nightly – the sunset.
Big Buddha
Phuket's Big Buddha is one of the island's most important and revered landmarks. The huge image sits on top of the Nakkerd Hills between Chalong and Kata and at 45 metres high it is easily seen from far away.
The lofty site offers the best 360-degree views of the island (think sweeping vistas of Phuket Town, Kata, Karon beaches, Chalong Bay and more.) Easily reachable via a six-kilometre road leading from Phuket's main artery, it's a must-visit island destination.
Rang Hill Viewpoint
Khao Rang Viewpoint sometimes called Rang Hill Viewpoint is among the most famous of the many viewpoints around Phuket. The charming location offers unrivalled views to the south, right across the island's main city and all the way to the Big Buddha, atop the hills in the distance. Some of the small, verdant islands off Phuket's east coast are also visible.
The viewpoint itself is marked with a beautiful open pagoda, which leads out to a large viewing platform at the edge of the hilltop, with guardrails for safety. The whole area is surrounded by landscaped gardens and mature rubber trees, making it a very peaceful and natural spot. There is also a modest selection of cafes nearby, which take full advantage of the fantastic view.
Chillva Market
The newest and one of the most popular markets among local people because if its smart design, making use of colorful shipping containers as shops. It's known as a hipster market where cool people have to check out. There are plenty of interesting items, clothes, accessories, food and drinks, art works, live street bands and even bars serving iced cold refreshments and snacks. The market is open in Samkong about 500 meters away from Tesco Lotus every Monday Tuesday Thursdays Friday and Saturday.